October 2019 Newsletter
Cougar Chronicle
October 2019
October Happenings
10/1
School Pictures
Bell Photography will be starting
at 8 am. Preschool pictures will
start around 10:30 am.
10/1
First Day of Dry Creek Academy
10/10 
PTO Meeting
The PTO will meet at 10 am.
All interested parents are invited!
10/11
Bus Safety Assembly
Assembly will be held from
8:25 am - 11:25 am
10/17
No school!
10/18
No School!
10/23
Last Day of Dry Creek Academy
Keep your eyes open for
our Winter Session information!
10/29
Fundraiser Delivery
We will send home more information
as the time draws near.
10/31
Halloween
Our PTO will be bringing you our
Pumpkin Patch Day. Also, Halloween
Dress Up day will be happening!
Back To School Reminders
After one full month of school, things are going great at Osmond! We have a few reminders to help us better serve you and your student!
Calls to have your child sent to an alternate location must be received at least ½ hour before school is let out. We would really love it if we could have all calls for such changes by 2pm. Messages taken throughout the day are delivered to the teachers at the cut off time. This allows teachers to have time to make sure your child receives the note. With students at specials or on the far end of the playground, we cannot guarantee delivery of the message if you call within the last half hour of school.
Please do not call the school and ask to speak with your student during class time. We will gladly take a message to give to your student. If your message necessitates your child speaking with you, we will do our best to make sure they are given the message so they may call you on their next recess.
Please call the school and excuse absences. We appreciate hearing from you when your child is or is going to be absent. This also helps us in knowing of any potential outbreaks of illnesses.
Flu and cold season is approaching! While regular attendance is important, having a sick child at school is counterproductive. We will try our best to help keep your child healthy but in the case that they become ill while at school, we will give you a call to pick them up. Thank you for helping us out with this!
Calling all Veterans
Please help us keep our list of area Veteran's current! Osmond Elementary has a tradition of honoring those who have served our country. In order to do so, we keep a list of local Veterans. Keeping this list current is a challenge and we need your help! Please call the office at 307-885-9457 or send an email to gro.2dscl@nameelk.yenrab if you know of someone that we need to include on our list. Thank you!
BEWARE!!! It's time for a Halloween Celebration!
Our PTO will be coordinating efforts for our Annual Osmond Pumpkin Patch! Your child is welcome to bring a carved/decorated pumpkin to be displayed in our patch. Please take note that pumpkins may not ride the bus to or from school with your students should they choose to participate. Please plan to bring the pumpkins to school as well as pick them up from school. If you would rather us discard the pumpkins, any remaining pumpkins will be discarded at 3:30. Thank you for your help with this!
This year for Halloween we are welcoming any interested students to come to school dressed up in their best costumes! Please pay close attention to the following rules:
Costumes must be in compliance with our OES dress code.
Costumes must allow students to participate comfortably in all school activities.
NO weapons or masks allowed.
Students will NOT be allowed to use the bathrooms at any point during the day to change into costumes, put on makeup, spray their hair, etc. Please plan to make all preparations at home prior to arriving at school for the day!
What is Title 1?
At Osmond Elementary we have a school-wide Title 1 program. Schools qualify for Title 1 services based on the percentage of enrolled students in economic need. This qualification is based on the number of students in the free and reduced-price lunch program.
Any student enrolled at Osmond, who needs extra academic help, is eligible for assistance. All students at Osmond complete a universal screener in reading three times per year. These test results along with teacher recommendations are used to identify students needing supplemental instruction.
Here at Osmond Elementary, we use the majority of our funds for our Title 1 paraprofessional team. With this team, we are able to offer small instruction groups to meet the needs of our students.
PTO & Our Local Banks Are Providing Banking Day
Each Tuesday during morning recess, the window of the old office is rolled up and dedicated parents along with representatives from our local banks turn it into an opportunity for students to make deposits into their savings accounts! The banking program teaches students important financial management skills which will benefit them for a lifetime! If they deposit money the required amount of times, then each bank that they deposit into will reward them by depositing $25 into their account at the end of the year! It is not too late the start the Banking Program! Below are the guidelines for the program:
Deposits must be at least $1.
A Bank Buck will be given to the student for each deposit from the participating bank. Students must keep track of their Bank Bucks to redeem at the end of the year! A replacement Bank Buck will NOT be issued should the child lose one.
40 deposits must be made by May 22, 2020 to earn the $25.
8 of those deposits must be made at the bank.
Osmond's Cougars are Off To A Great Start!
Our 2019-2020 school year is off and running with students eager to learn. Our 4th and 5th graders have already been on field trips to enhance their learning. Our 4th graders traveled to J.R. Simplot's Smoky Canyon Mine. The operations at Smoky Canyon consist primarily of open-pit mining for phosphate ore. Students were able to learn of the mines operations, examine the rocks for composition and fossils, and marvel at the size of the machinery. In the north foyer of Osmond Elementary, we have displayed a whorl shark tooth (Helicoprion) fossil that was unearthed at the mine.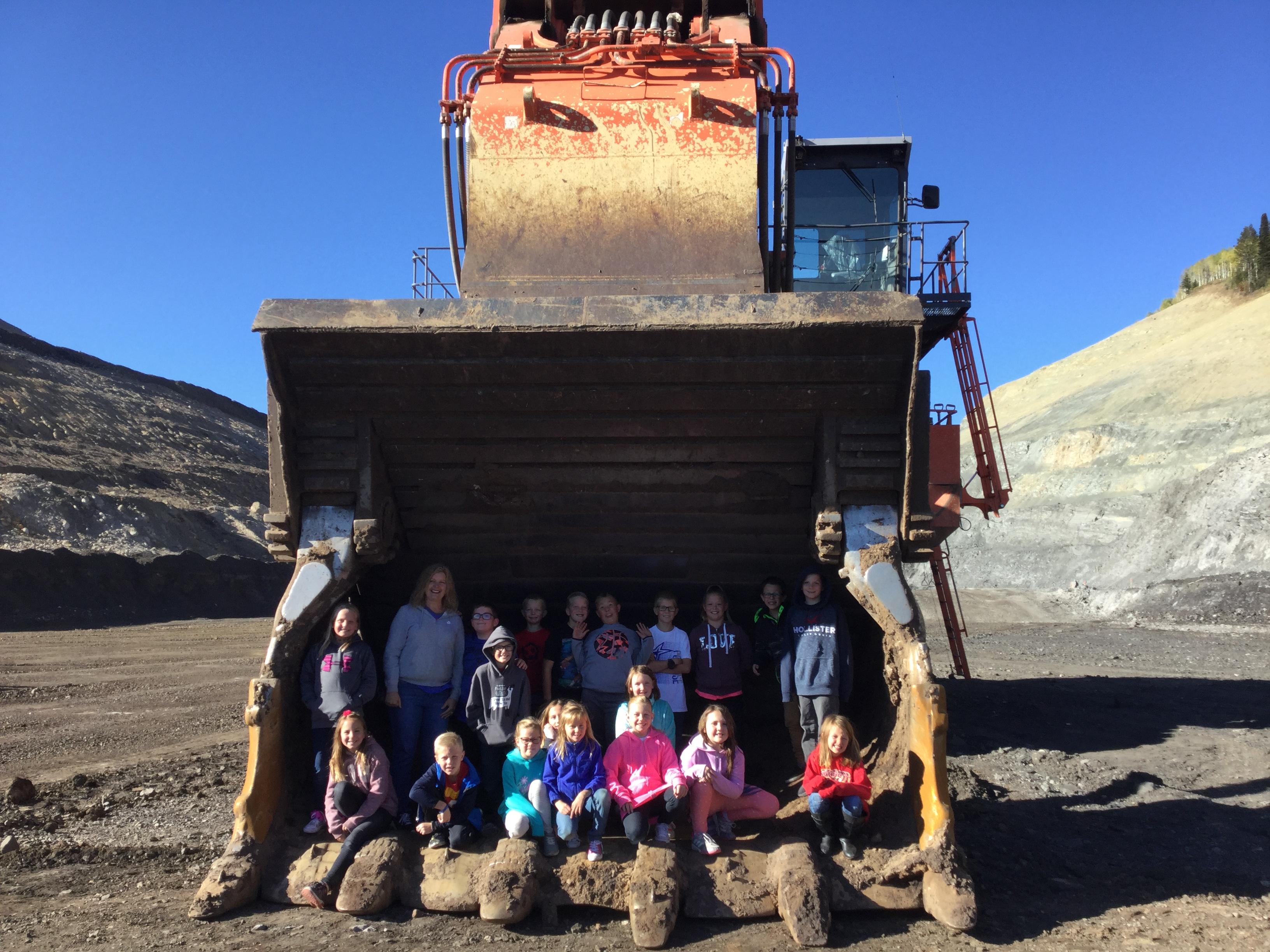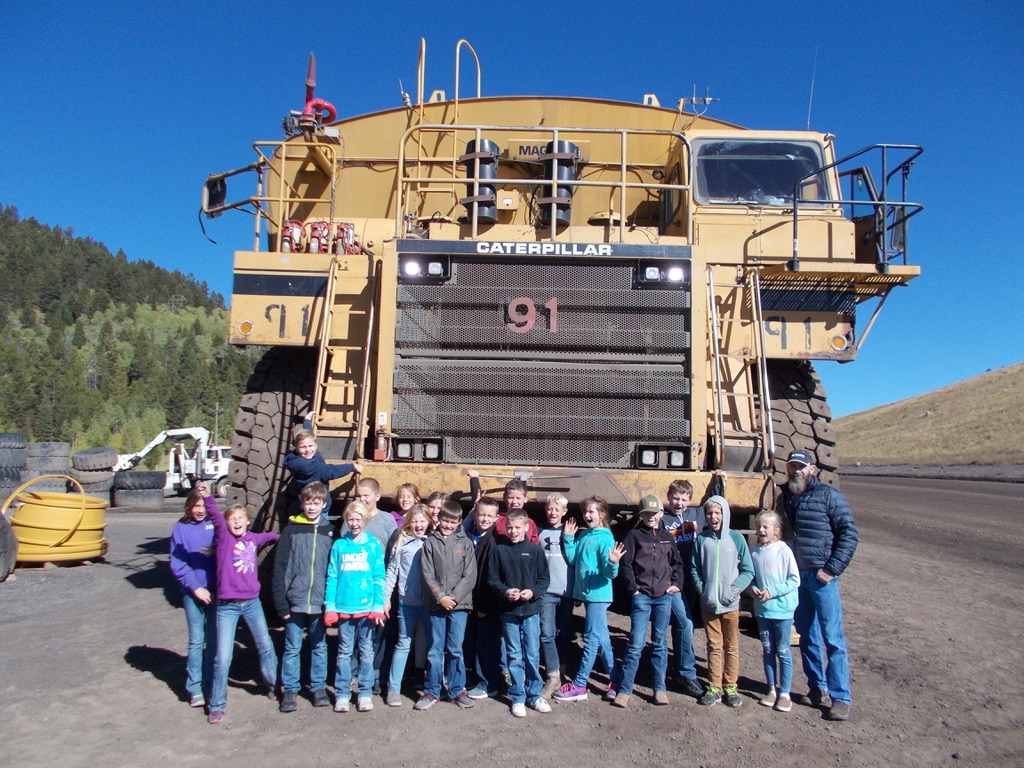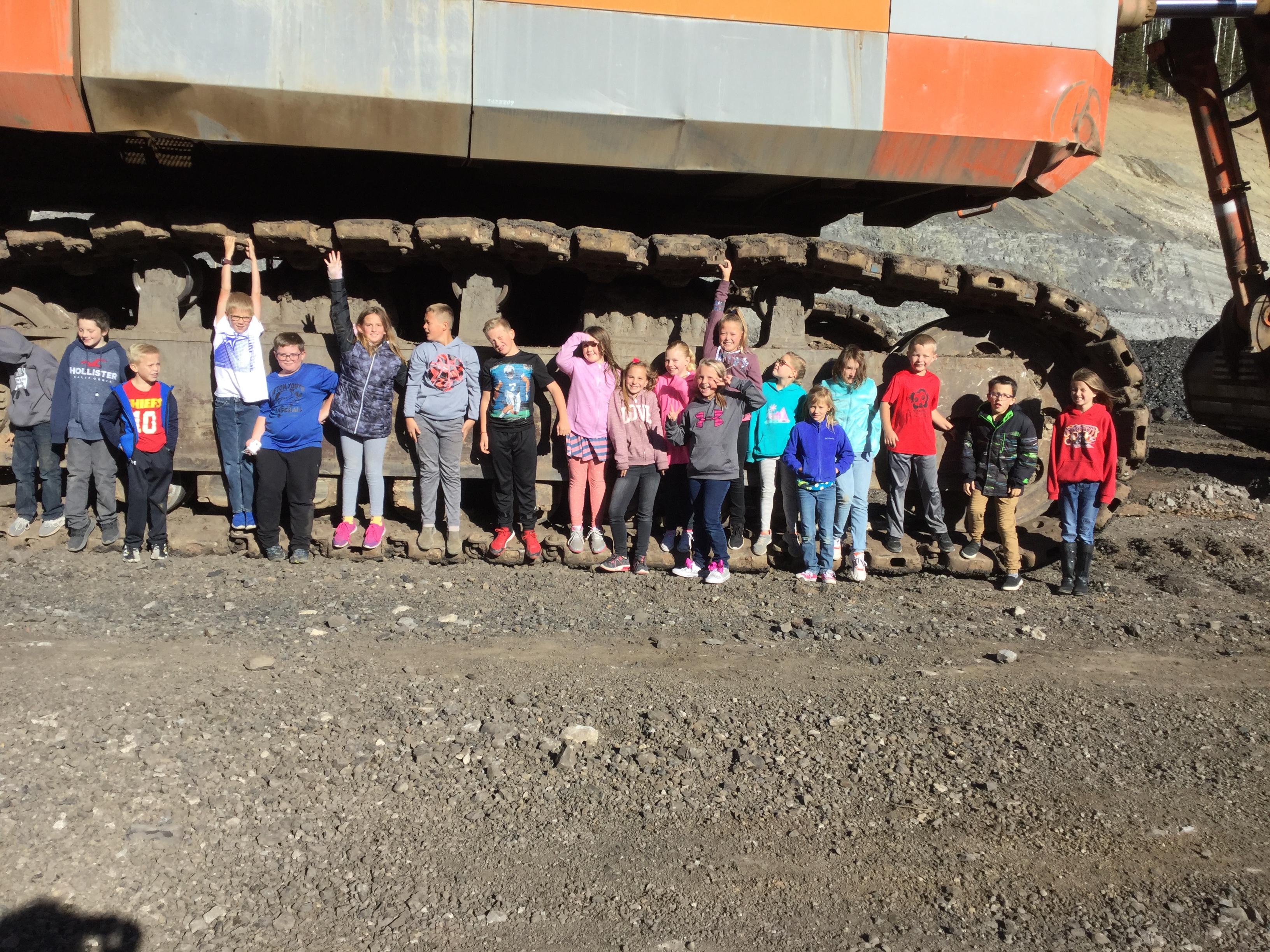 Make Your Mark!
The theme of the library this year is Make Your Mark. It is from a book titled, The Dot, written by Peter H. Reynolds. It is a darling story about how everyone can make a "mark" on our world, and follow it wherever it takes us. Our librarian, Mrs. Hunsaker, had each student decorate a dot, to "Make Their Mark". When put all together, the students are able to see how each of their dots are creating something beautiful. If you have a chance, we would love you to stop by and see how your students are Making a Mark, at Osmond Elementary!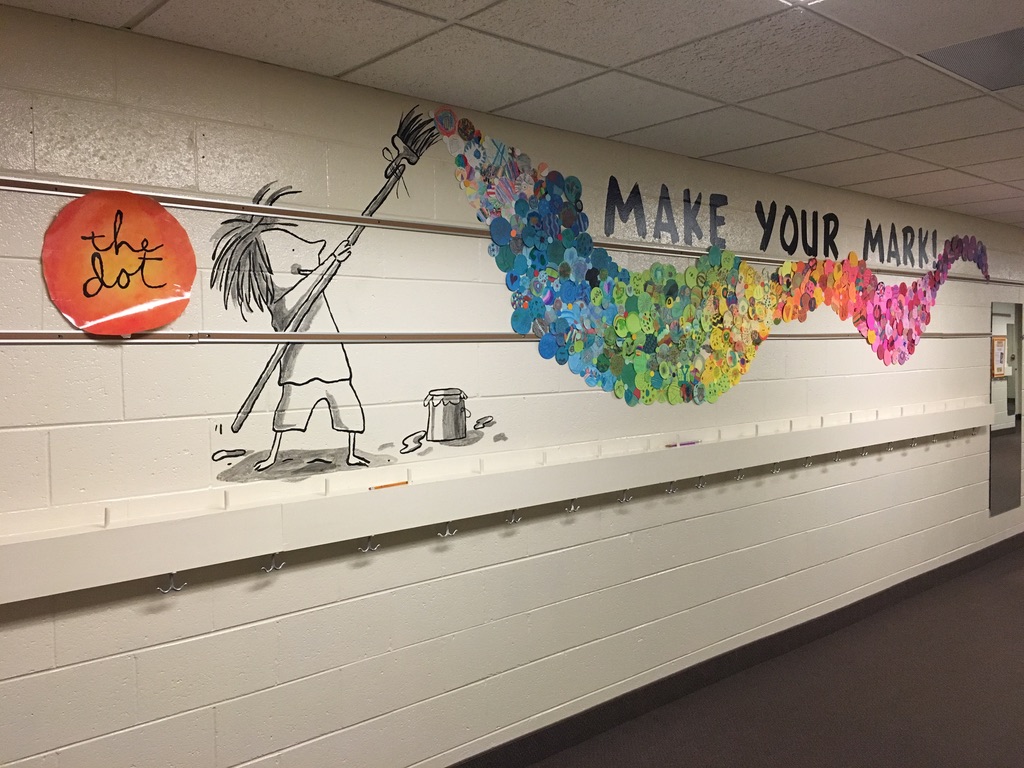 Osmond's Kitchen Staff Is AMAZING!!
Osmond has some of the best cooks out there! Our crew here at Osmond is made up of Head Cook Tressa Ritchie, Pam Magee, and Amy Hoopes. These fabulous ladies strive everyday to provide healthy meals for our students. Whenever possible, they make as many homemade items as they can. Look at all of these handmade noodles Tressa is making for Chicken Noodle Soup! These ladies deserve tons of high fives and thank you's as they do so much for our students and school!
Osmond Elementary THANKS you ladies!